Redistricting Los Angeles County
Importance
What makes Los Angeles community districting unique?
For the first time, the inaugural Los Angeles Citizens Redistricting Commission will hear directly from community residents to ensure the new districts respect the way people understand the boundaries and shared characteristics of their communities. This provides a unique opportunity for meaningful and substantive community participation. The districts we draw this year will shape our lives and our communities for the next decade. To determine how we will be represented and how funds for schools, hospitals, and other essential services will be allocated, we must mobilize massive participation to draw new district lines that keep our communities whole.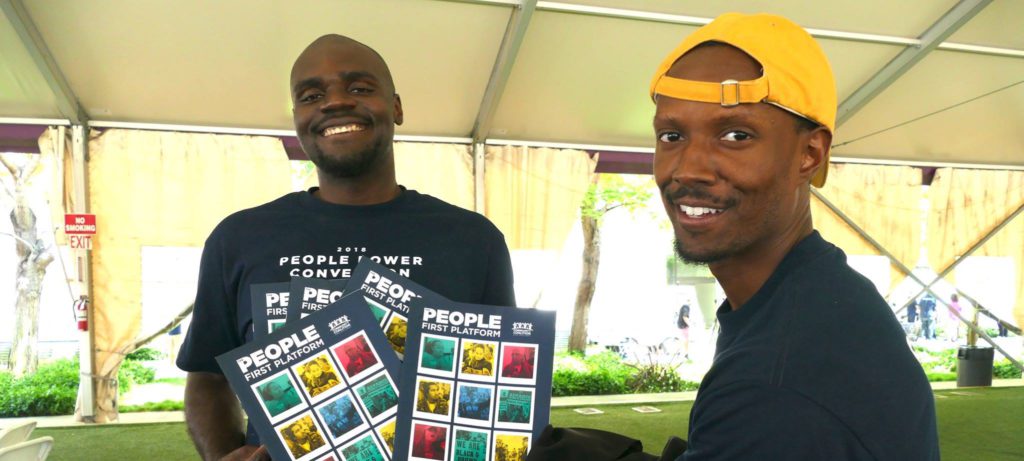 Background
In Los Angeles County, historically the County Board of Supervisors had adjusted the boundaries of all supervisorial districts. Decades of protecting incumbent interests above those of their communities led to much needed upgrades to the county's redistricting process. Senate Bill 958 (2016) authorized the creation of the Los Angeles County Citizens Redistricting Commission. This inaugural independent citizen's commission reforms the redistricting process for Los Angeles County and creates a much more transparent and inclusive process for county residents. In Los Angeles County voters should choose their representatives not have representatives choose their voters.
2021 Los Angeles County Redistricting
Beginning in 2021, the authority for redrawing the boundaries of L.A. County's supervisorial districts will be in the hands of 14 commissioners instead of the five county supervisors so that districts better reflect the broad demographic and regional diversity of the county. The Los Angeles Citizens Redistricting Commission (L.A. CRC) must file its final map with the county's election official (i.e., the L.A. County Registrar-Recorder/County Clerk) by December 15, 2021.
The L.A. CRC's process will mirror the state's four-phased approach:
commissioner recruitment and selection;
commissioner preparation;
line-drawing process; and
potential legal challenges.
Phase 1 already occurred and culminated in December 2020 with the selection of 14 commissioners. Phase 2 launched in January 2021 with trainings and other capacity building opportunities for commissioners to ensure they have the resources and knowledge necessary to carry out their mandate. We anticipate that phase 3 will begin as soon as the federal government delivers redistricting data to states in the summer. As with the state process, phase 4 will only be necessary if the final maps are legally challenged.
Figure 1: L.A. County's Citizen Age Voting Population Estimates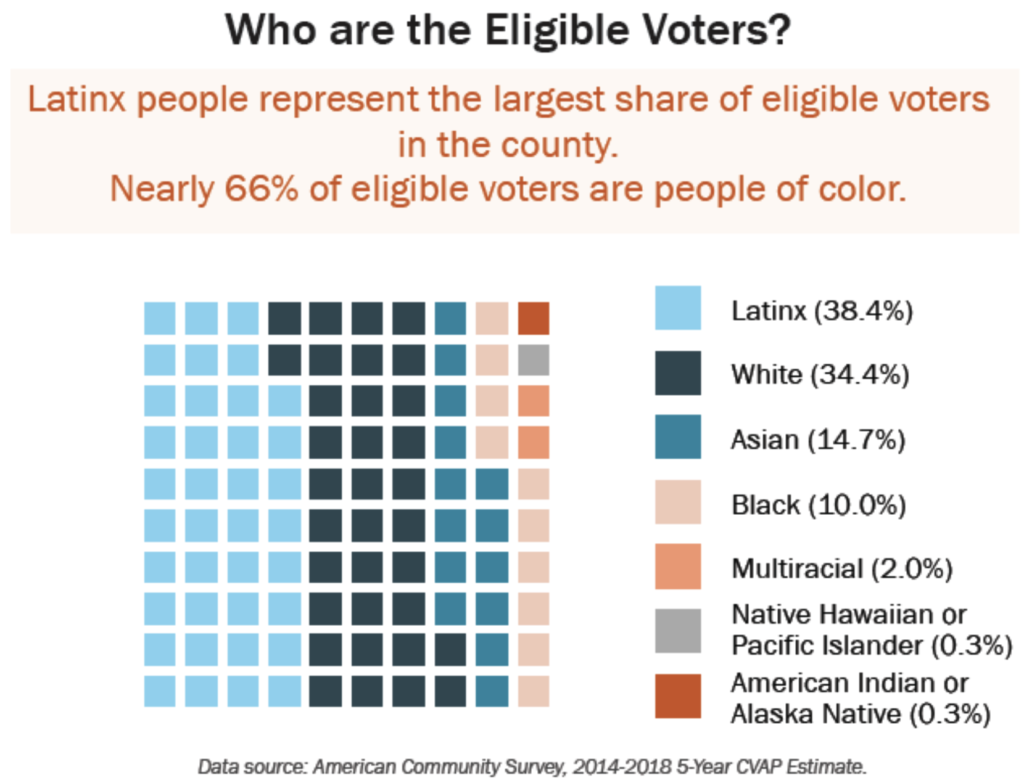 Changing demographics across L.A. County reflected in the 2020 Census population counts will undoubtedly provide opportunities for certain population groups to increase their potential voting power. This is particularly the case for the county's Latinx population (Figure 1). Significant Latinx population growth in District 2, which encompasses cities such as Inglewood, Compton, and Gardena, could lead to a second Latinx-majority district with the possibility of electing a Latinx candidate in the future (District 1 is the first majority Latinx district). In other cases, Latinx population growth could result in districts where Latinxs make up a plurality but not a majority of the citizen voting age population (CVAP). In other words, although the Latinx CVAP may not surpass fifty percent, it could be the largest population share compared to other groups in the district. This could be the case in District 3 and District 4, giving Latinx voters significant potential power.
In response to this evolving landscape, racial equity advocates are strategizing how to best meet the representation needs of a growing Latinx population while also creating opportunities for other racial/ethnic groups and their representation needs. This includes prioritizing and uplifting the needs of Black communities, Asian American groups such as Koreans and Cambodians, and Pacific Islanders – all groups that have been marginalized, cracked, and packed during previous county redistricting processes.
To facilitate county level community districting engagement, the People's Bloc was established by Community Coalition and Advancement Project California. The People's Bloc is multiracial table dedicated to the inclusion of everyday residents, conducting public education, and proposing solutions to the redistricting process that promote the political voice, representation, and access to resources of historically underrepresented groups. To get involved please contact moreinfo@thepeoplesbloc.org.
Resources
Learn more about Los Angeles County community districting
Discover how redistricting in the County of Los Angeles is unique and find resources to help shape our future.